Faith is the hallmark of every Cebuano, and the rising of the glorious Sto. Niño statue in Cebu City's Senior Citizens' Park in Carbon Market is a grand testament to that.
The chapel has a new icon with gorgeous design elements inspired by Cebu's Sinulog influences. And the renowned eminent outline of the Holy Child crowns the new chapel, which is scheduled to be completed this quarter.
The completion of the 30-foot iconic symbol coincides with celebrating the country's 500 years of introduction to Christianity. The crown of Señor Sto. Niño inspires the rounded form of the chapel's design, while the fluidity of the arcs represents the graceful motions of the Sinulog dance. Sinulog came from the Cebuano word "sulog," which means water currents.
The chapel covers an area of 300 sq. m while the whole park is 3,700 sq. m in size, and has room for around 150 parishioners once completed. The project is part of the Modernized Carbon Market by Megawide Corporation in a joint venture with the City Government of Cebu. Food outlets are set up around the area, and visitors can buy snacks while admiring the beautiful statue of the Holy Child.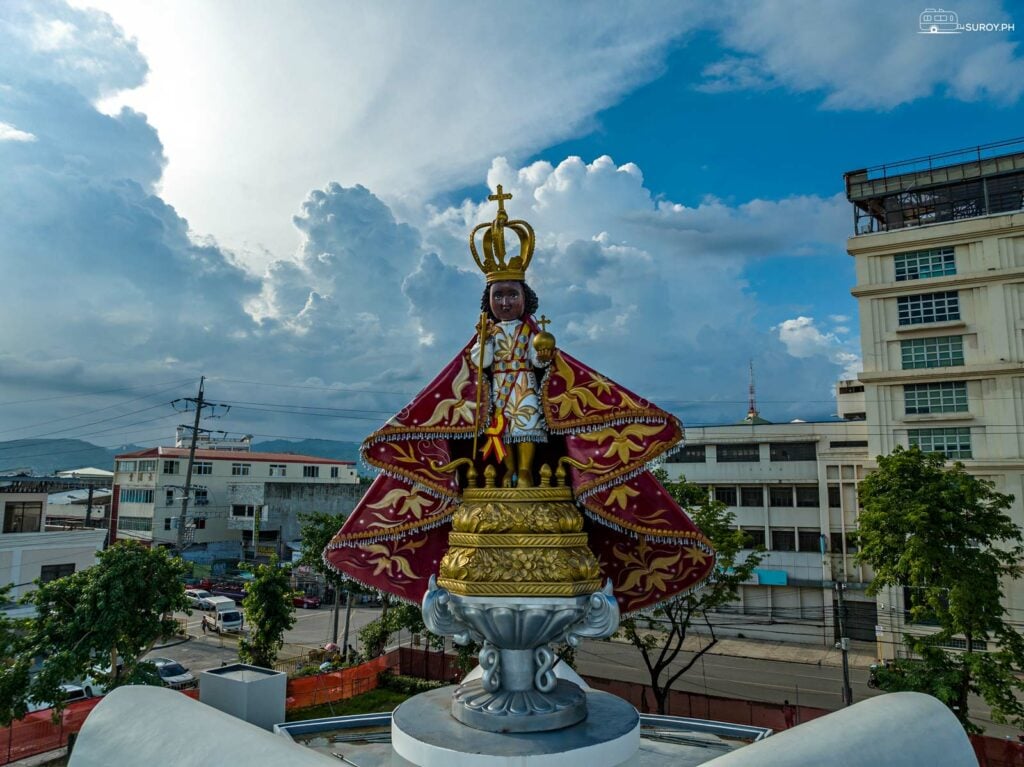 Señor Sto. Niño overlooks the Mactan Channel, the soon-to-be-completed Cebu-Cordova Link Expressway (CCLEX), and the new Carbon Market. He looks after our seas and protects our ships that pass along the channel.
We minted a limited edition NFT in commemoration of this joyful event. You may view it at OpenSea.
Follow us on Facebook and Instagram for more suroy stories.
General Information:
Entrance fee:
There is no entrance fee.
Opening hours:
The chapel is open from 8:00 AM – 6:00 PM but the park is open 24 hours.
Sto. Niño Chapel Mass Schedule 2022
Wednesday: 5:15 PM
Sunday: 4:00 PM
Location Information:
The new Sto. Niño statue is located in the city center on M.C. Briones street right beside Carbon Market and the Cross of Magellan.