The journey is worth the destination, and Bomod-Ok Falls in Sagada puts a check mark on both of them with flying colors. Located in the northern part of Sagada, this 70-meter (200-feet) gigantic high waterfall is breathtaking and a pure beauty to behold. Beautiful limestone formations surround the falls, and the water is ice-cold. Perfect for the summer heat.
The journey to the falls starts from the jump-off point where you will pass Barangay Fidelisan. The hiking trail goes for about an hour and a half, depending on your speed, and there are guides available for hire from the nearby barangay. You will be passing be Fidelisan Rice Terraces, known to be one of the most beautiful, with farmers tending to their crops without using carabaos.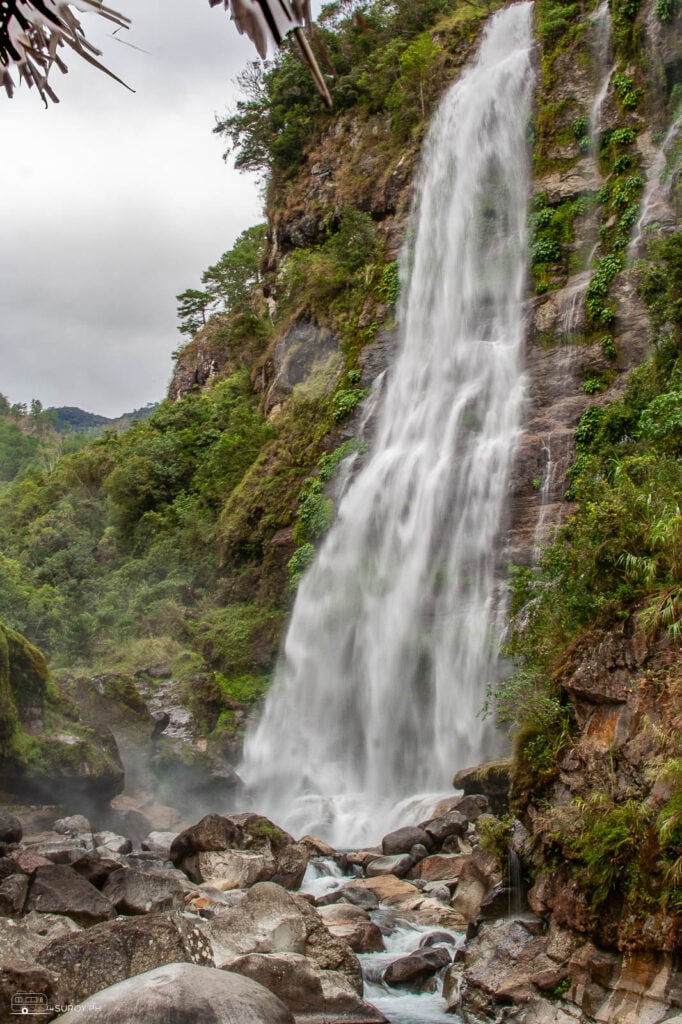 We suggest visiting the nearby rice terraces of Banaue and Batad in the province of Ifugao.
Bomod-Ok Falls in Sagada is a must-visit for all the waterfall lovers out there. The journey towards some of the most stunning rice terraces is a sight to behold. And the final destination of Bomod-Ok Falls is sure to make you admire its majestic beauty.
Follow us on Facebook and Instagram for more suroy stories.
General Information:
The entrance fee consists of PHP 20 environmental fee and PHP 500 for the tour guide.
Bomod-Ok is a Kakana-ey term meaning "big". Kakana-ey is the local dialect of Benguet.
The trail to the falls consists mainly of up and down hikes but mostly descending pathways. The hike back can be more taxing and not for the faint of heart. So we suggest bringing some snacks and water for your walk.
There are several sari-sari (mini-grocery) stores in Barangay Fidelisan where you can have some snacks and refreshments.
We suggest going during the dry season of November – April as roads can be pretty slippery. The monsoon months of August to October can be pretty dangerous as the area is prone to landslides.
The mobile phone signal in the falls is spotty to no signal at all.
Please respect the local people and their culture when visiting this beautiful province.
How to Get There:
From Cebu:
There are daily flights to Clark / Manila from Cebu City.
Via Baguio City: You can catch buses going to Baguio via Victory Liner from Manila daily. Victory Liner is one of the major companies that run buses from Cubao, Pasay, and Monumental Main Terminal in Caloocan City. The trip takes 4-6 hours, and you can choose a basic or deluxe bus service. You may catch the GL Trans Bus Line from Baguio City to Sagada. It will take another 4-6 hours to get to Sagada. There are no airconditioned buses, and the ride will be pretty bumpy.
Travelers choosing this route can make an overnight stay in Baguio City before heading for the next leg of your adventure.
Via Banaue: Travelers can also choose to go to Sagada via Banawe. You can take Autobus and Dangwa Tranco, which both leave at bus terminals in Sampaloc at 10 pm for a nine-hour journey.
Upon arriving in Sagada, take a jeepney to Barangay Bangaan, which is around 5 km away. Just inform the driver to drop you off at the jump-off point to Bomod-Ok Falls. The jeepney fare is around PHP 30.
Location Information:
Sagada is located in the Mountain Province and is known for its beautiful rice terraces, a natural wonder of the world. The area is mountainous, and roads are not yet fully developed.