There's a beautiful stunning labyrinth maze garden beside a European-inspired Church south of Cebu in Toledo City.
The maze is 25 meters in diameter and is unique as it is the only labyrinth maze garden in the Visayas region. Its small height allows you to see the whole maze and prevents you from getting lost on your way. A statue of the Virgin Mary carrying Baby Jesus is at the center of the labyrinth. The uniqueness makes it a picture-perfect spot for your next getaway.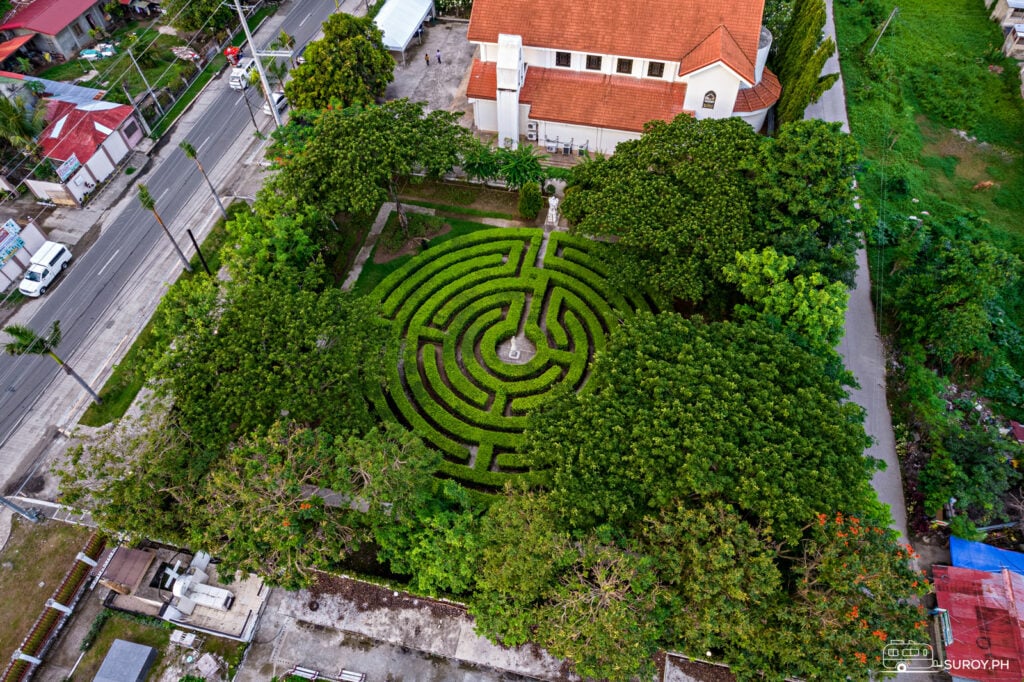 The Maze Garden is located beside the famous Capilla Sta. Ana Museum and Community Center were constructed using European-inspired architecture. It is a privately-owned chapel by Toledo native Lilian Yareda married to Canadian Michael Overs. There is a museum inside where you can take a historical tour. It has featured several European paintings and historical relics collected by the couple over the years. An 1859 Steinway piano graces the hallway of the museum. Please note that taking pictures inside the museum is not allowed.
The chapel has five rooms inside – a prayer room, baptistry, museum, a classroom, and a multi-function room.
Follow us on Facebook and Instagram for more suroy stories.
General Information:
Entrance Fee: PHP 100
Opening Hours: 9:00 AM – 11:00 and 1:00 PM – 4:00 PM daily
How to Get to the Maze Garden Toledo:
By Bus: Take the bus bound for Toledo from Cebu City South Bus Terminal. Ask the driver to drop you off at Capilla Sta. Ana. Bus fare is around PHP 100.
By Car: Navigate with Waze or Google / Apple Maps and key in Capilla Sta. Ana Museum and Community Center in Toledo City. Parking is free of charge.
Location Information:
The Maze Garden (Capilla Sta. Ana Museum and Community Center) is located a few minutes from the city center of Toledo City, south of Cebu City. Travel time from the city is approximately 2 hours.